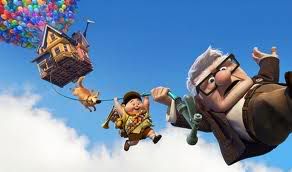 I have watched the Disney-Pixar animated movie 'Up' where an aging widower set out for the greatest adventure of his life when he tied thousands of helium balloons on his house so that he can go free. I really loved it and although I am not about to go the adventure like his, I would like to imagine myself floating like that. hahaha Okay, I know I am such a dreamer!
Anyway, in a show at the National Geographic Channel, they recreated the flying house scene in California and here is the video clip below.

Instead of thousands of regular balloons, the engineers of the show used 300 big and thick balloons filled with a tank of helium for each. Then they also made a small single-story house and made it fly. But of course, it was without furniture. I can only imagine how much they spent on this production!
Still it does not stop me from dreaming that one day, I will be able to do this. LOL
Up is directed by Pete Docter and Bob Peterson. Voice includes Edward Asner, Jordan Nagai and John Ratzenberger.